This week, we talk about fake love from fake allies. FYI, posting a hashtag isn't enough.
Did you know 20 million people posted a black screen on Instagram for Blackout Tuesday? Yeah…
The Black Lives Matter Movement has encouraged much needed coverage, support, and conversations regarding the treatment of Black people in the United States. Although racism and police brutality aren't new phenomenons, these heinous acts have been frequently filmed and broadcast in the last three months. The unfortunate murder of George Floyd at the hands of Derek Chauvin, Alexander Keung, Thomas Lane, and Tou Thao opened the world's eyes to what's always been happening to men and women that look like me.
The murders of Breonna Taylor, Sean Reed, Elijah McClain, Riah Milton, and Dominique Fells have shown us that Black women, Black transgender womxn, Black EMT workers, Black men with a licence to carry, even Black introverted teenagers are all subject to unimaginable terror.
In order to truly honor these Black lives, it is important to know just what we're fighting for. It is important to be genuine in all that we do. It is important to do the research. It is important to do the work.
Today, we're rating celebrities who did the bare minimum.
Don't think that celebrities are the only ones at fault here, though. If you're a non-Black person reading this right now, you're just as responsible for doing the work and speaking up for your Black counterparts. Remaining silent is choosing the side of the oppressor.
It's just more dangerous to perpetuate performative acts via a large platform or social media presence. Therefore, these celebrities need to be checked!
Categories are as follows: Action step, Declaration in support of the Black Lives Matter Movement, Research, and Consistency.
Bhad Bhabie
| | |
| --- | --- |
| Category | Comments |
| Action Step (or lack thereof) | I mean, y'all see it. She posted a black screen. |
| Declaration in support of BLM | There was no caption on this photo. Her comments were also disabled, so I couldn't exactly ask her. Her stance remains unknown. |
| Research | There was no indication that Bhad Bhabie did her research. She didn't even include a caption. Where was the call to action for her 18 million followers? |
| Consistency | Alongside her racist comments about growing up "in the ghetto" and frequent use of the "n-word", Bhad Bhabie went back to posting her regularly scheduled content and selfies three weeks later. What a way to ignore the momentum of the movement! |
| | |
Overall rating…
J. Cole
J. Cole released a new song, "Snow on Tha Bluff", in response to Noname. What does this say about the relationship between women and the Black Lives Matter Movement? Why are we either completely overlooked, or expected to spoon-feed information to grown men?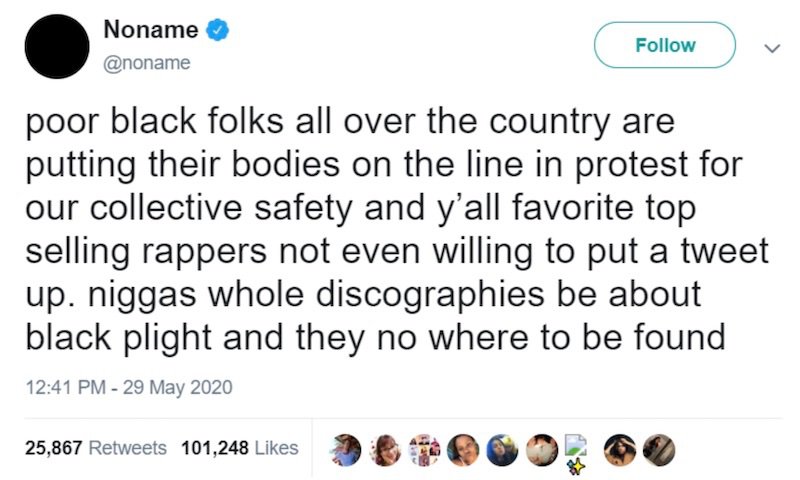 | | |
| --- | --- |
| Category | Comments |
| Action Step (or lack thereof) | Cole attended Fayetteville protests. He did the work on his own time. Actions really do speak louder than empty social media hashtags. |
| Declaration in support of BLM | We been knew. Cole has always been down for the movement. Stream KOD or 2014 Forest Hills Drive, and try to tell me otherwise. |
| Research | Cole is very knowledgeable on the Black plight in America. |
| Consistency | Cole's shown out for the movement in general. But his recent project rubbed me the wrong way. Noname is a talented artist and her point was valid. The amount of energy Cole put into a song to discredit a Black woman was shocking. Selective allyship isn't consistent. Supporting the Black Lives Matter Movement means supporting Black women! |
| | |
Overall rating…
Terry Crews
| | |
| --- | --- |
| Category | Comments |
| Action Step (or lack thereof) | Crews attempted to address Black people in support of the BLM via an unnecessary tweet. It's a "no" from me. |
| Declaration in support of BLM | None. Instead, this is if "All Lives Matter" was a person. |
| Research | Crews has managed to keep up with the Black Lives Matter Movement over the last three months. Unfortunately, this is what happens when you don't apply your research. |
| Consistency | None. Crews uses religion to preface his polarizing statement, failing to realize that God is love, justice, and equality. Love, justice, and equality are embedded in the Black Lives Matter Movement. |
| | |
Overall rating…
No one has the blueprints to freedom. We're all learning. A large net worth does not make celebrities effective activists. We must stop idolizing other people. We must stop expecting our favorite rappers, singers, or actors to speak up for us. We cannot place our self-worth into the hands of pop culture.
Instead, we should seek genuine support and allyship. Surprise! It already exists. Invest in people who fight for the Black Lives Matter Movement, unapologetically. Including yourself. And if you must have celebrity validation to feel secure in your own fight for the Black Lives Matter Movement (which I hope you don't), here are some celebrities who are doing the work:
Kendrick Sampson
Yara Shahidi
Beyoncé
Keke Palmer
Michael B. Jordan
Nick Cannon
Chance the Rapper
Hasan Minhaj
In today's digital age, celebrities and social media have the most influence on what we consume. When we continue to financially support celebrities that ignore pressing matters of race, discrimination, and bigotry, we're just making excuses for inexcusable things.
I've made the conscious decision to filter out performative acts from my social media. The events that took place over the course of just three short months have revealed a long-established sense of complacency from the people we look up to. Sever those connections. If you find yourself explaining your own right to live, create a space where you don't have to.
Next week,
Next week, we're rating Predominantly White Institutions' responses to the Black Lives Matter Movement. What statements have been released by these administrations? How do their students feel?
Justice for Breonna Taylor.
Sign this petition.
Text "ENOUGH" to 55156.
Call:
Mayor Greg Fischer (502-574-2003)
Attorney Thomas Wine (winejcook@louisvilleprosecutor.com)
Governor Andy Beshear (502-564-2611)
LMPD Chief Steve Conrad (502-574-7660)
*this blog works best on desktop.